#IWishPeopleKnewThatDiabetes is a much more easily managed disease now than it was in the distant past, when I was diagnosed.
After receiving a medal for living with type 1 diabetes for 50 years, I attended a meeting for medalists in 2011. The picture shows some of the medalists at the meeting, in Boston. I am the tall guy in the center of the back row. Some younger people up front are the doctors and staff that attended. Many of us long term survivors, with good diabetes health, are being examined in the Joslin Medalist Study. One thousand medalists have participated. I participated in 2009.  A thorough study has produced some very interesting results. The purpose of the Study is to determine the factors that have enabled so many of us to survive and thrive for so long, without any serious complications. I am looking forward to my 75 year medal in the year 2020. The Study is funded by JDRF and NIH, and the findings of the ten year study (2005-2015) will be revealed later this year.
The life expectancy of young type 1 people in the US is almost as good as it is for non diabetics. Things keep getting better! We can live almost normal lives, and fulfill all our goals, while maintaining good health with type 1 diabetes!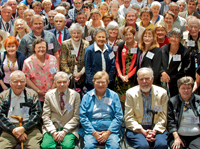 ---
Richard Vaughn